Behind the Camera: Tharmapalan Tilaxan
It was a fascination with the intersection of technology and art that first led Tharmapalan Tilaxan to photography. For the past eight years, Tilaxan has been traveling throughout Sri Lanka's north and east as a freelance photographer, searching for inspiration in the places, people, and objects he encounters. This work has led to exhibitions at the Sanmarka United Youth Club in Jaffna (2016), at Colombo's Bandaranaike Memorial International Convention Hall (2017), and at the Art Circle of the University of Jaffna (2018). His work has previously been featured in Sri Lankan newspapers Virakesari and Uthayan, and in the magazine Jēvanati. Tilaxan has studied in the Department of Fine Arts at the University of Jaffna, and currently works at the Noolaham Foundation. Tilaxan can be contacted here.
Below, Tilaxan introduces the four photographs featured on this website: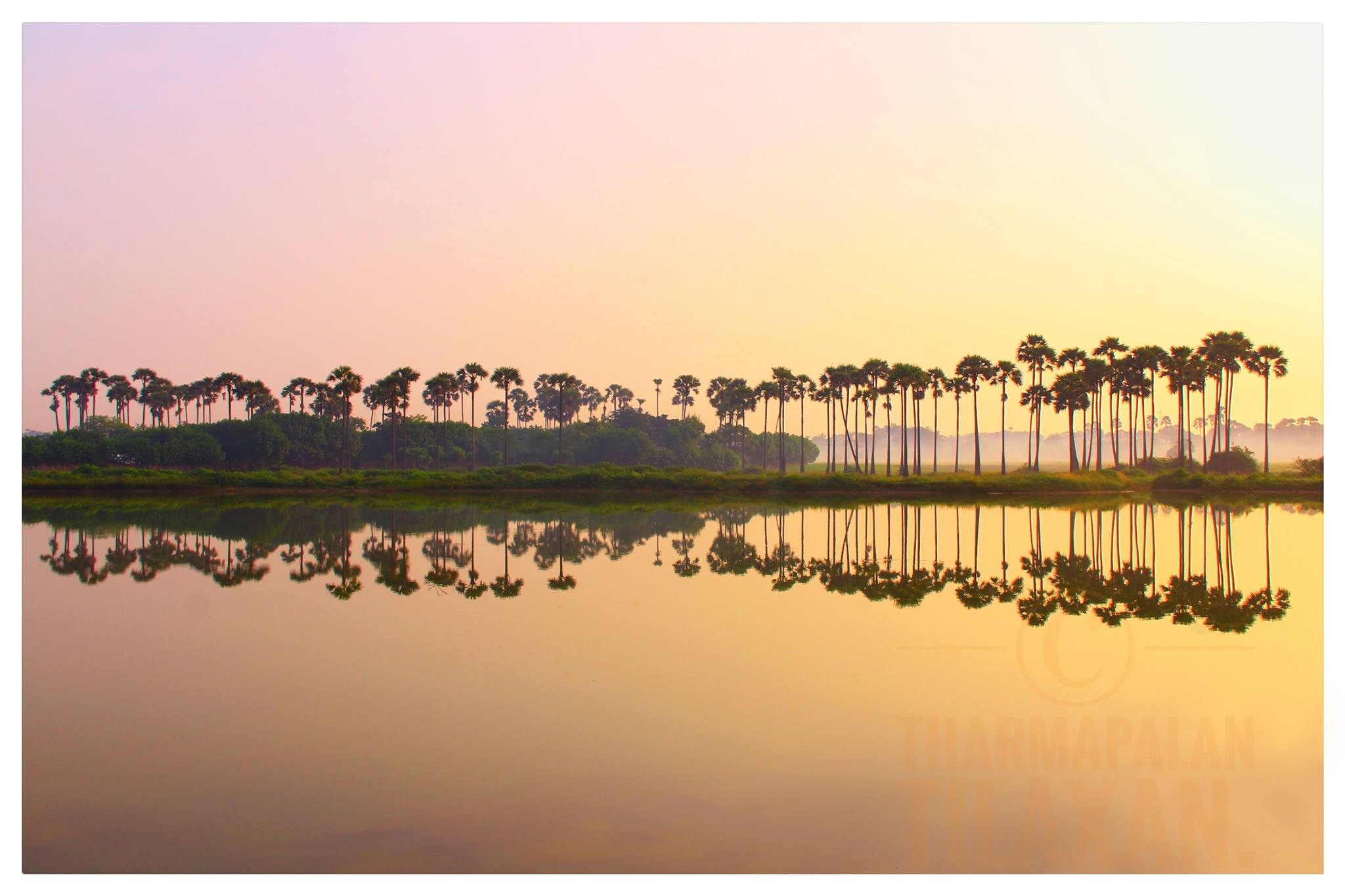 I am drawn to shooting landscapes of Sri Lanka's north and east; they represent something that most people my age in Jaffna now think of as existing somewhere else, somewhere you need to travel to by bus or airplane. Though they may head elsewhere in search of work or excitement, Jaffna's young people are also leaving behind a place filled with beauty. I shoot in Jaffna, Mannar, Mullaitivu, and Kilinochchi, because these places are generally associated with something so far removed from beauty.
This photo of palmyra trees lining flooded paddy fields was shot during the rainy season near Vattukkotai, in the west of the Jaffna Peninsula.
One of my first exhibitions was a collection of images from a bullock cart race in Karainagar, an island off the west coast of the Jaffna Peninsula. I became interested in carts and what they represent because, like so many things, they are rapidly being replaced with modern technology: cars and lorries, buses and gas-powered tractors. Value is not only found in something new. Like so many of Jaffna's heritage sites and historical buildings, there is great beauty and value in parts of life that connect us with the past.
This photo, a detail of a bullock cart wheel hub and spokes, was shot in Karainagar.
Age, time, and labour play important roles in my work, and this photo is a good example of those themes. Age and hard work are immediately visible in the old man's skin and veshti: the wrinkles of both wrap around his hands, arms, and chest like layers built up over time. The book is well worn, having lost its cover, but it is also something of great value to its owner, and is just one of many books the man has collected and sold over his long life.
This photo is of a man named Kanthappu Aiya, a resident of Karainagar, reading one of his many prized old books.
Here, I have tied together some of my interests in transportation, age, labour, and natural beauty. The camera's viewpoint, from the middle of the road looking into the obscured distance, compels the viewer to think about movement and time. The road is surrounded by a wonderful arch of tree limbs hundred years in the making, at least. The lone figure, a toddy tapper, represents an oppressed labour and caste community, yet one so important for Jaffna's economic situation.
This photo follows a toddy tapper—I don't know his name—on his route down a tree-encircled road near Kilinochchi.